Padlock 8001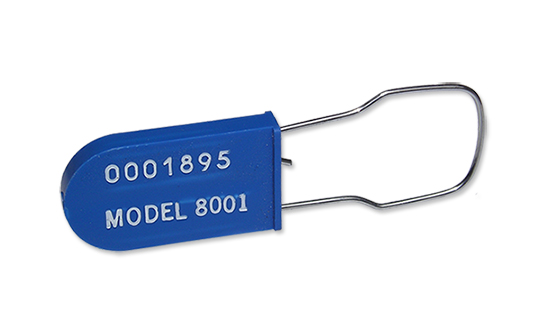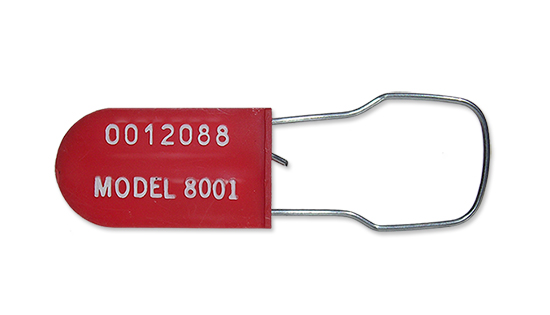 Height (opened)
98 mm
Height (closed)
75 mm
Width
22 mm
Strap diameter
1 mm
Tensile strength
400 kN (approx. 40 kg)
Material
Polyacetal (POM)
Marking
Logo, sequential numbers, barcode and text
Marking colours
White or black
Colours
Blue, red, yellow, grey and white
Customised version
3.000 pcs. +
Packing
Supplied in boxes of 1.000 pcs.
A box measures: 22 x 40 x 15 cm and weighs 4,50 kg
Get a free and non-binding offer
Padlock 8001 – A plastic seal with a metal hasp
---
Padlock 8001 is a simple and easy-to-use seal solution.
This padlock seal has a metal hasp and can be used as a replacement for a traditional padlock, where you want to increase the safety or where you simply want a more economical solution.
As with a traditional padlock, Padlock 8001 can be used on refrigerated trucks, metal barrels, trolleys or similar applications.  
Padlock 8001 acts as a preventative tool, which helps to prevent any unauthorised access.
High tensile strength of 40 kg
---
Padlock 8001 is made of Polyacethale (POM) and has a solid steel hook.
The seal is removed by using tools.
With a tensile strength of up to 40 kg, this padlock seal is suitable for applications where an extra good tensile strength is required compared to the traditional padlock seals made out of plastic.
A box of 1.000 seals measures: 22 x 40 x 15 cm and weighs 4.5 kg.
Customised version
---
We offer Padlock 8001 in a customised version.
We have a graphic department that organizes your wishes and needs in a visual draft so that you can get a preview of the product's design.
It is possible to add your own logo, text, barcode and sequential numbers.
We look forward to hear from you.
Vis mere