Aluka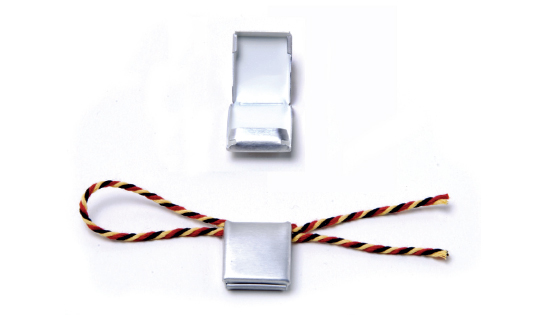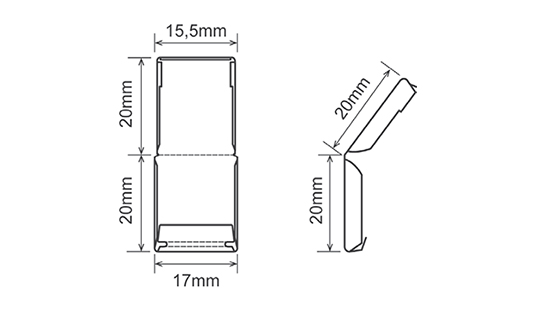 Seal size
17 x 20 mm
Working length
Unlimited – depends on the length of the wire
Tensile Strength
Determined by the wire chosen
Material
Aluminum
Colours
Aluminum and white
Standard version
Model: 17 x 20 mm.
Colour: Aluminium
Mængde: min. 1.000 stk. +
Customised version
Model: 17 x 20 mm.
Colour: Aluminium or coloured alu.
Mængde: min. 5.000 stk. +
Possibility of printing on both sides.
Text and logo, and a 6 digit serial number.
Packing
Comes in bags of 1,000 pieces.
Get a free and non-binding offer
Aluka – to be closed by hand – no tool is needed
---
Aluka is an easy-to-use security seal, which can be operated with one hand.
The easy handling, along with the possibility of having a flexible length of wire, makes it an excellent alternative to sealing solutions that need tools / pliers.
Aluka can be used for tasks where it is necessary to adjust the length of the wire in the sealing moment. In addition, it is also a visible proof of sealing and an exclusive seal with its unique possibility of marking.
The seal is recommended for machines, cabinets, textile, inspection, and indicative pallet wrapping.
No tool is required
---
Aluka is a part of Miladans range of Wire seals.  
This security seal does not require any tools. This makes it particularly suitable for tasks where it is not easy or possible to administer the seal, sealing wire and plier, all in one time.
The seal is made of aluminum. By applying pressure with your thumb and index finger, you can easily close Aluka.
Standard and custom verison
---
We offer Aluka in a standard and customised version.
Miladans staff is always on hand to help you get the right solution.
We have a graphic department that can help you prepare a draft so you can get a preview of the product's design.
It is possible to add your own text, logo and consecutive number.
Standard version – (produced to order)
Model: 17 x 20 mm
Colours: Aluminum
Quantity: 1.000 pcs. +
The delivery time is typically 1 week for our standard version.
Vis mere