Notox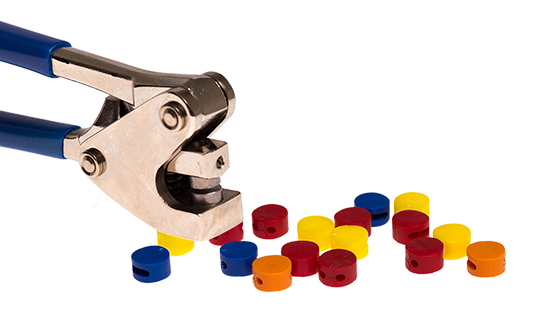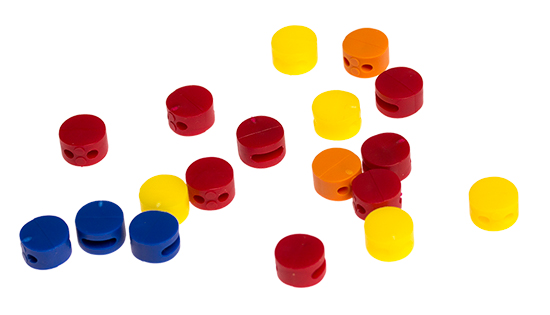 Working length
Unlimited – depends on the length of the wire
Width
Ø9 mm as standard stock item
Ø13 mm as bulk product at a minimum amount of 50.000 pcs.
Tensile Strength
Determined by wire type
Temperature
– 30C / + 80C
Material
Polystyrene (PS)
Colours
Red, yellow, green, blue, black, gray, white and orange
Standard version
Model: 9 mm
Colours: Gray, red, blue and orange
Quantity: 1.000 pcs. +
Custom version
The sealing plier dies can be made with simple logo or text
Packing
Supplied in bags of 1.000 pcs.
Get a free and non-binding offer
Notox – The old method
---
Notox is a more environmentally friendly alternative to the old lead sealing.
The lead seal used to be the preferred seal of many companies for sealing various water meter, fire extinguishers and similar tasks.
The seal is part of Miladan's range of wire seals, which in its function and application is considered to be an outdated alternative to the more contemporary solutions that Miladan also offers in its range.
NOTOX can be used for sealing of: water meters, cold and hot water sensors, electricity meters, fire extinguishers, small containers etc.
Alternative solutions:
Twist GP for sealing water meters etc. –  Follow the link
Fireseal to seal fire extinguishers etc. – Follow the link
How does et work!
---
NOTOX works by passing a wire through the two entrance holes of the seal, and then with the help of the sealing plier to press down the plastic (the Notox) around the wire, and thereby fixating the wire.
As mentioned, this sealing method is not considered contemporary and Miladan therefore recommends that customers who have previously used NOTOX switch to the more modern and far more flexible solutions, such as PSW97 or Clockseal and alike.
PSW97 – Follow the link
Clockseal – Follow the link
Compared to NOTOX, these seals stand out by being faster to use, the handling is easier, the seals can be customised with name / logo and serial number and then the seal provides a higher level of security. Time saving is a decisive factor that makes more and more people choose one of our alternative solutions.
Of course, Miladan offers NOTOX to those of our customers who still insist on using this solution and NOTOX may in some cases be the right and perhaps only solution possible.
Standard version
---
We offer Notox in a standard version.
Miladan's staff is always ready to help you find the right security seal solution for your needs.
Standard version of Clockseal (in stock)
Model: 9 mm.
Colours: Gray, red, blue and orange
Quantity: 1,000 pieces. +
All standard products at Miladan can typically be dispatched within 24 hours.
Vis mere