PSW97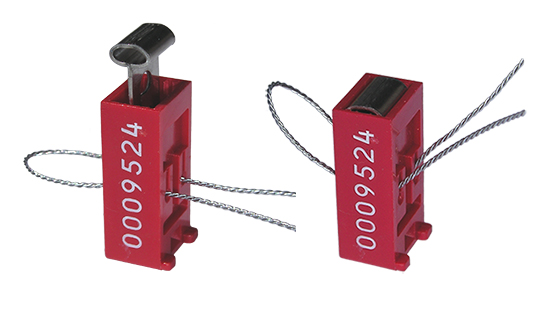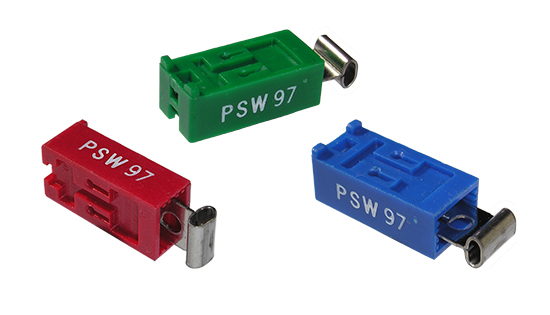 Size
27 x 13 x 10 mm
Material
ABS
Locking plunger
Metal
Handling temperature
Approx. – 20C / + 80C
Colours
White, grey, black, yellow, orange, red, blue, green etc.
Marking
Text, logo and sequential numbers
Marking colours
White or black
Standard version
Colour: Red
Text: SECURITY SEAL and sequential numbers
Quantity: 1.000 pcs. +
Colour: Blue
Text: SECURITY SEAL and sequential numbers
Quantity: 1.000 pcs. +
Customised version
3.000 pcs. +
Packing
Supplied in boxes of 1.000 pcs.
Get a free and non-binding offer
PSW97 – a flexible wire seal
---
PSW97 is a handy and flexible wire seal. It is ideal for devices where varying lengths of wire is needed.
The seal is made of ABS plastic and has a metal locking plunger. It is possible to use virtually all types of wire in combination with PSW97 as the locking plunger locks the wire in place. Even a thin nylon thread can be used with the seal.
Our standard PSW97 is not supplied with a pre-installed wire.
Whether you want to use a stainless steel wire, galvanized steel wire or a plastic coated steel wire, the wire can be adapted to your needs. See our selection of wires.
The seal can be used for many different sealing tasks and you can adjust the wire length yourself according to the actual closing device.
The seal is an excellent alternative to the old lead seal, which was used with a wire and a sealing tool where the latter was used to press the lead seal around the wire. PLEASE NOTE that it is not legal anymore to use lead seals in Denmark because of the negative environmental impact lead has.
Standard or customised solution
---
We offer PSW97 in both a customised and a standard version.
We have a graphic department that organizes your wishes and needs in a visual draft so that you can get a preview of the product's design.
You can create your own unique seal by adding your own text, logo, barcode and sequential numbers to the seal.
If you want an easier handling and a faster delivery, you can also order our standard PSW97.
Standard version – in stock
Colours: Red or blue
Text: SECURITY SEAL and sequential numbers
Quantity: 1.000 pcs. +
All standard products at Miladan can usually be delivered within 24 hours.
.
Vis mere