Aluroll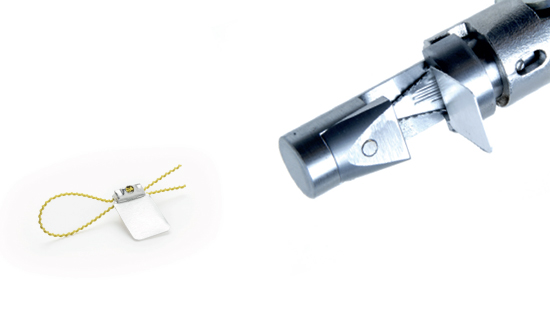 Flag size
17 x 20 mm
Working length
Unlimited – depends on the length of the sealing wire
Tensile strength
Determined by the wire chosen
Material
Aluminum
Colour
Aluminum
Standard version
Model: 17 x 20 mm
Colour: Aluminum
Quantity: 5.000 pcs. +
Customised version
Model: 17 x 20 mm
Colour: Aluminum
Quantity: 10.000 pcs. +
It is possible to have your logo, numbers and letters (max 13 x 13 mm) embossed in the seal + 6-digit sequential number.
Packing
Supplied in bags of 1.000 pcs.
Get a free and non-binding offer
Aluroll – aluminium seal
---
For many years, Aluroll has been a popular choice for many companies and public institutions.
In addition to a pre-defined stamp on the seal, we can also provide the sealing tool with an interchangeable insert / die with embossing according to our own design.
Aluroll is available in various shapes and sizes but is offered as standard 17 x 20 mm with a rectangular flag.
This seal is closely related to our Aluka, with the primary difference, being that Aluka is closed by hand (without the use of tools) and Aluroll must be fitted with a sealing tool.
Possibility of embossing
---
Aluroll is made of aluminum and is used together with a plier and a wire.
Link to sealing plier and link to our selection of wires
This "lightweight seal", which can be supplied with your very own marking, is used in the food industry, in connection with calibration and the like.
The aluminum seal is a versatile sealing solution as the sealing thread is adjusted in length according to the scope of the task and is used, among other things, to seal transports / goods to be declared customs for transport and inspection.
There are many uses of this seal solution and its versatility makes it a first choice for certain sealing tasks.
Standard or customised solution
---
We offer Aluroll in a standard and in a customised version.
We have a graphic department that can help you prepare a draft so you can get a preview of the product's design.
It is possible to add your own text, logo and consecutive number.
Standard version – (produced to order)
Model: 17 x 20 mm.
Color: Aluminum
Quantity: 5,000 pieces +
The delivery time is typically 1 week for our standard version.
Vis mere